Spas Playa del Carmen
Vacation time is me time. It's your chance to reload, recharge and above all relax. No routine. No deadlines. No getting to work on time or dealing with traffic either way. And there's no way to pamper your senses and release the built up tension than a nice relaxing spa treatment. Caribbean style. Here's some of the best Playa del Carmen spas to stimulate your soul.
BRIC SPA
Location: 28th between 5th and 10th
Stylishly nestled in the heart of downtown Playa del Carmen lies a place so refreshingly rejuvenating that perhaps it's better kept a secret. Run by the talented and highly hospitable Jacqueline Van Nostrand, an experienced massage therapist with over ten years of experience working in luxury spas throughout Mexico, Bric Spa is a small slice of holistic heaven. Learn more!
---
XPÁ XCARET
Location: Xcaret Park
Xpá Xcaret Spa is located within Mexico's #1 theme park: Xcaret. With a wide array of available spa treatments, it's the perfect addition to a full day of exploring Xcaret Eco-Park's numerous attractions and activities. And of course, it wouldn't be Xcaret if it weren't done in style. That's why you'll find the entrance to Xpá Xcaret in a hidden cave behind a waterfall.
VERONICA'S MASSAGE GOLD
Location: 1st Avenue North between 24 and 26
Once you step foot into this Caribbean oasis of wellness you'll immediately be embraced, pampered and illuminated by Veronica's Gold Massage's guiding philosophy: "Ensure that all people reach a harmonious physical well-being and spiritual balance." Your body, mind, and spirit will be eternally grateful you found this holistic gem.
SPAzul SPA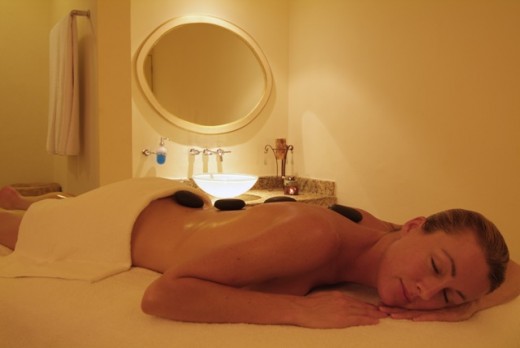 Location: Constituyentes between 1st and beach in The Royal Playa del Carmen Hotel
People keep returning to The Royal Playa del Carmen Hotel in droves thanks to the excellent quality of their service and amenities. No less could be expected of the hotel's spa, SPAzul, and they deliver. The spa is open to the public. Relax. Unwind. Be. SPAzul will thoroughly pamper you.
SABAI SPA
Location: 5th street between 6th and 8th in the Jardin de Marieta Hotel
The word sabai derives from Thai and means to relax. You can do exactly that and more at this soothing little spa right of Quinta Avenida. Enjoy a day on the beach and an afternoon of shopping and people-watching on 5th Avenue before treating yourself to some well-deserved bliss before heading off into the night to conquer Playa del Carmen's famous nightlife scene.
For more information activities in Playa del Carmen or if you have any questions about how to purchase a property in Mexico, please feel free to contact any of our agents and we will be glad to help you find your very own piece of paradise.
Blue Playa Real Estate in Playa del Carmen, Sales Professionals that make buying a home an amazing experience
Related Posts